2015 Mazda3 for sale in Pewaukee, WI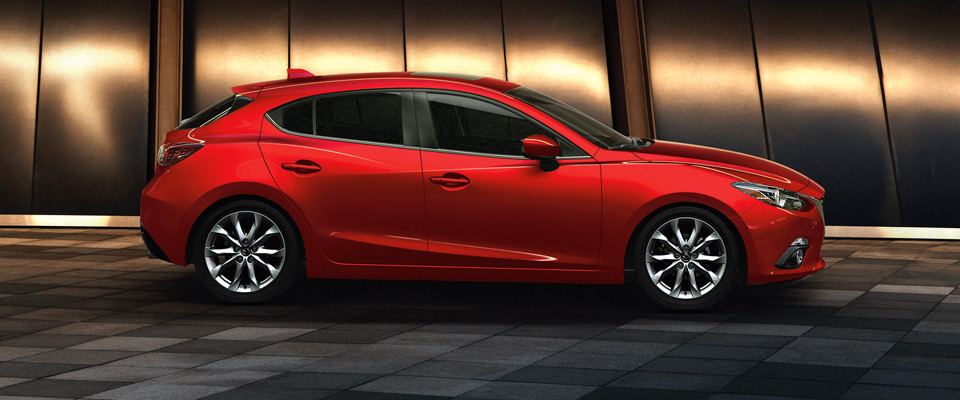 View 2015 Mazda3 Inventory
2015 Mazda3 for sale in Pewaukee, WI
Shopping for a compact car can be an arduous task. You need to take into account fuel economy, reliability, and the over value of the vehicle that you are shopping for. Most of today's compact cars tend to meet those needs, but lack a certain aesthetic appeal or personality. The 2015 Mazda3 for Sale in Pewaukee, WI, proudly presented by Russ Darrow Metro Mazda meets all of your standards, and then some. Not only is it easy on your wallet, but it's easy on the eyes.
2015 Mazda3 Efficiency
2015 Mazda3 models come with a 2.5L four-cylinder engine under the hood that generates 184 hp and an impressive 185 lb-ft of torque, along with your choice of six-speed automatic or manual transmission. When you go with the 2.5L engine and the manual transmission, in either the sedan or hatchback model, your fuel economy is measured at 29 mpg combined (25/37 for the sedan, 26/35 for the hatch *EPA-estimated). When you pair the engine with the six-speed automatic, your fuel economy jumps to a staggering 32 mpg (28/39) in the four-door model and 31 mpg (27/37) with the hatchback version (*EPA-estimated).
2015 Mazda3 Safety
The 2015 Mazda3 for Sale in Pewaukee, WI includes several standard safety features, such as: Antilock disc brakes, stability and traction control, front head restraints, and several types of logically placed airbags. Plus, a rearview camera and blind-spot monitoring system make it easier to be aware of your surroundings, complete with rear cross-traffic alerts, come standard on most trim levels. Going inside the cabin, the Mazda3 is hard to beat. The driver-oriented dashboard and console interface are easy to reach and simple to use. The interior panels, upholstery, and switches have a distinct feeling of opulence and luxury.
Most of the trim levels on the 2015 Mazda3 for Sale in Pewaukee, WI come standard with a color display mounted on the dash, with a knob-type controller on the center console. Mazda takes the comfort level a step further by including a touchscreen display, which makes the electronics easy to figure and out and use. Full power accessories, plus seats, an impressive sound system, and plenty of cargo space make this a comfortable vehicle for both long and short drives.
When it comes to shopping for that perfect family car, the Russ Darrow Group offers great pricing, superior customer service, and inventory selection. For four decades, the Russ Darrow Group has served the Wisconsin communities. The Russ Darrow Group has a track record for success, and a positive plan for the future. When you purchase the 2015 Mazda3 for Sale in Pewaukee, WI, you become part of that positive future. Give Russ Darrow Metro Mazda a call at 888-675-2781 to arrange your test drive today.
Directions to Mazda Pewaukee
Contact us about the 2015 Mazda3