2016 Mazda CX-5 for sale in Milwaukee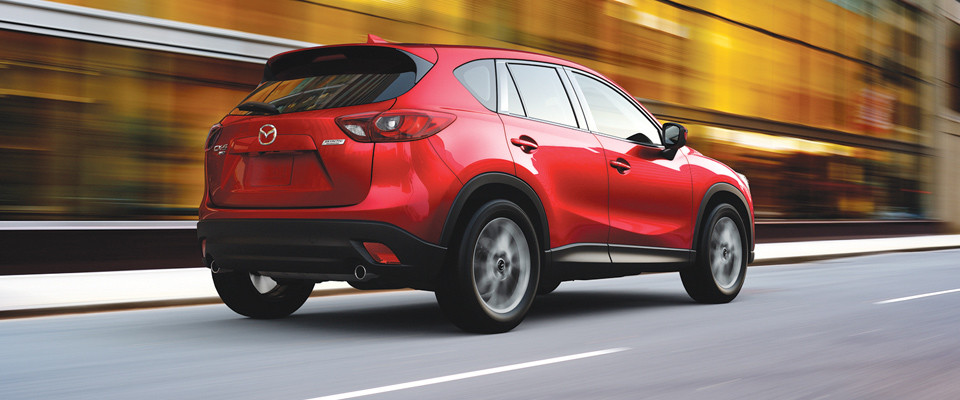 View 2016 Mazda CX-5 Inventory
2016 Mazda CX-5 for sale in Milwaukee
Whatever you thought you knew about crossover utility vehicles, forget about it. The 2016 Mazda CX-5 for sale in Milwaukee is set to redefine that market, and it is heavily over-engineered to ensure your satisfaction. Russ Darrow Metro Mazda is determined to provide the best in sales, service, and personnel.
Equipped with Mazda's famed SKYACTIV® technology, the CX-5 excels in efficiency, performance and fuel economy. The CX-5 offers two available engines - one a 2.0 liter and the other a 2.5 liter - with the intention of rivaling the fuel economy of diesel and hybrid motors. It might sound bold and even a bit crazy, but it's not. The 2.0 liter engine manages 35 miles-per-gallon on the highway. Yes, you read that right. This is all done without sacrificing performance, as the CX-5 boasts class-leading power and fuel economy.
The automatic transmissions are designed to be ultra smooth and crisp, and you're sure to appreciate it. Mazda's transmissions keep you involved and alert. Lastly, cutting edge technology enables Mazda to design a chassis that is 220 lbs. lighter while being 30 percent stiffer. A stiffer chassis gives you more stability, especially at higher speeds and in turns.
On top of all this, the 2016 CX-5 for sale in Milwaukee boasts impressive cargo capacity and the ultimate seating comfort. Its cargo and seating capacity exceeds that of one of its biggest competitors, the Hyundai Tucson. Adjustable rear seats allow you to shift between cargo space and seating space. Based on your needs for the day, the CX-5 will accommodate you.
With the Active Torque Split All-Wheel Drive, you can rest assured that you'll have the most traction possible, even in inclimate weather. By shifting power between the front and rear axles, the CX-5 puts power where more traction is available, keeping you stable and in control.
Another aspect of Mazda's goal of over-engineering comes in regards to safety. The available Smart Brake Support and Smart City Brake Support automatically apply the brakes if the system determines that a front accident is impending. The CX-5's front lighting system changes based on your direction. If the car senses you heading into a turn, it will shift the headlights over to keep them pointed on the road ahead of you.
Mazda also offers an adaptive front-lighting system, designed to keep the headlights focused on the road ahead, even in turns. The system allows the bulbs to shift their light pattern, meaning your light will remain on the road, not on the ditch or the shoulder.
The Mazda CX-5 for sale in Milwaukee is built to impress. We at Russ Darrow Metro Mazda want to help you find a car you can take pride in driving. Stop by today to take a test drive!
Directions to Mazda Milwaukee
Contact us about the 2016 Mazda CX-5