2016 Mazda CX-5 for sale in Pewaukee, WI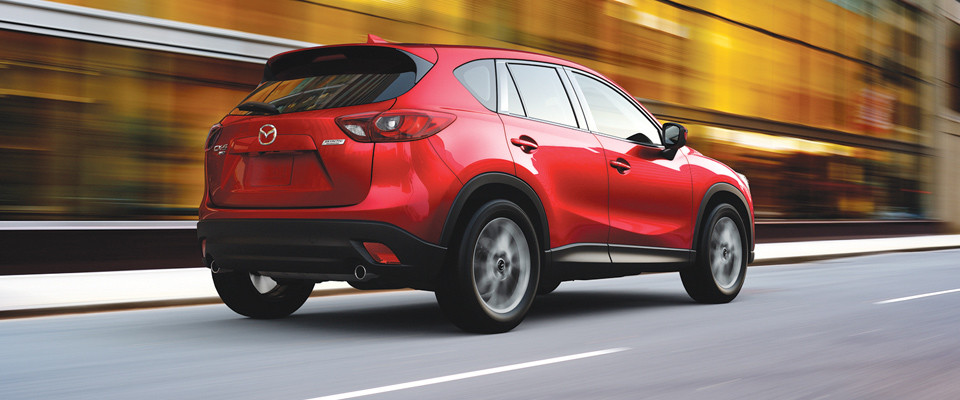 View 2016 Mazda CX-5 Inventory
2016 Mazda CX-5 for sale in Pewaukee, WI
Spacious, with a great design and impressive fuel economy, the 2016 Mazda CX-5 for Sale in Pewaukee, WI is one of the top picks from Russ Darrow Metro Mazda's inventory. Are you looking for a family car that not only looks great, but is also fun and safe to drive? Look no further.
2016 Mazda CX-5 Safety
This car has many impressive features, but its safety features really make it the best family car on the market. Every model comes standard with antilock brakes, traction and stability control, and several types of airbags. Additionally, an automatic crash notification is an optional feature on the Sport and comes standard on the Touring and Grand Touring. The latter of the Touring models gets a blind spot and rear cross-traffic warning systems to further protect you and your loved ones. Even more upgradable options are available.
2016 Mazda CX-5 Powertrain
The front-wheel drive 2016 Mazda CX-5 for Sale in Pewaukee, WI comes with two choices for powertrains. The first, a 2.0L four-cylinder engine, gives 155 hp and 150 lb-ft of torque that is paired with a six-speed manual transmission. The second, a 2.5L four-cylinder engine with 184 hp and 185 lb-ft of torque is mated to a six-speed automatic transmission. All-wheel drive is optional on the Sport models that have the 2.5L engine. The bigger of the two is standard on the Touring and Grand Touring models.
Regardless of which choice you go opt for, the fuel economy is impressive. The Sport FWD, 2.0L model gives 29 mpg combined (26/35). All FWD Mazda CX-5s with the 2.5L engine under the hood get 29 mpg combined (26/33), while those with all-wheel drive (AWD) are rated at 26 mpg combined (24/30).
The 2016 Mazda CX-5 or Sale in Pewaukee, WI has a design that is attractive, modern, and efficient. The materials uses in the cabin and exterior are all mature and high-quality, with soft-touch surfaces contrasted by tasteful metallic or black accents. The vehicle also has black gauges with white lettering, for increased legibility and ease of use. The luxury feel is added to with a leather and simulated alloy steering wheel and plush seats.
Some of the convenience features include a 9-speaker Bose premium brand stereo system, satellite radio, speed sensitive volume control, dual illuminating vanity mirrors, turn signal in the mirrors, and dual zone climate controls for both passenger and driver.
When it comes to finding your dream car the Russ Darrow Group offers great pricing, superior customer service, and inventory. For over 40 years, the Russ Darrow Group has served the Wisconsin communities. In fact, we have 17 locations throughout Wisconsin. The Russ Darrow Group has a track record for success, and a positive plan for the future. When you purchase the 2016 Mazda CX-5 for Sale in Pewaukee, WI, you become part of that positive future. Give Russ Darrow Metro Mazda a call at 888-675-2781 to arrange your test drive today.
Directions to Mazda Pewaukee
Contact us about the 2016 Mazda CX-5