2016 Mazda6 for lease in Milwaukee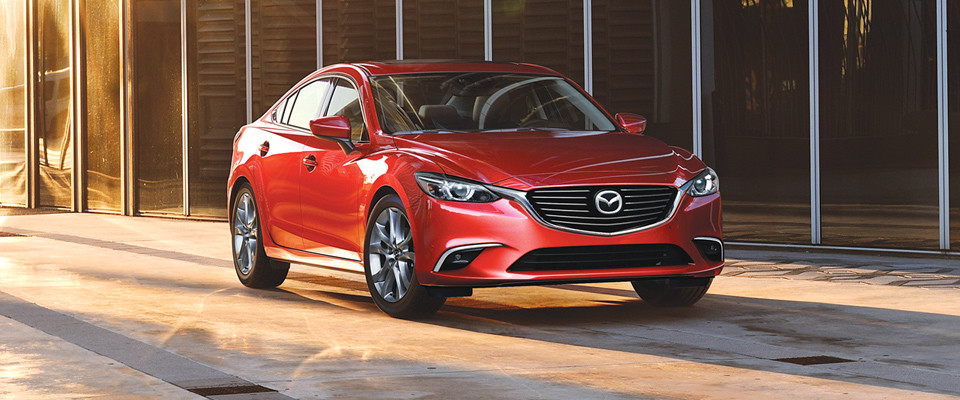 View 2016 Mazda6 Inventory
2016 Mazda6 for lease in Milwaukee
The 2016 Mazda6 for lease in Milwaukee retains everything consumers loved about its predecessor while adding features you're sure to love. Russ Darrow Metro Mazda has the new and improved Mazda6 available for lease, and we'll outperform anyone when it comes to service and helpfulness.
Car & Driver praised the 2015 Mazda6, placing it on their "10 Best" list, but Mazda isn't content to stop there. The SKYACTIV® technology is a prime example of this. It allows the Mazda6 to far exceed its competition in efficiency, performance and fuel efficiency. Motors equipped with the technology generate impressive mid-range torque, designed to get you moving while burning the minimal amount of fuel.
The cutting edge transmissions deliver ultra smooth and crisp shifts, keeping you directly connected. The Mazda6's chassis is lighter than previous years, but in spite of this, it is significantly stiffer. This gives you more stability, especially at higher speeds and in turns.
How does 40 miles-per-gallon on the highway sound? How does it sound when coupled with a potent engine capable of putting a big smile on your face? We're willing to bet it sounds pretty good. Its 184 horsepower exceed a number of cars in its class, and its 185 ft-lbs of torque ensure that you'll have no problem getting up to speed. The tightly-drawn body lines of the Mazda6 for lease in Milwaukee drastically reduce drag and wind resistance.
For 2016, Mazda offers a number of features to keep you safe, no matter the situation. The available Distance Recognition Support System measures the distance between your car and any in front of you, displaying a warning if you approach too close. The Lane Departure warning system keeps an eye out for inadvertent lane changes, alerting you if you encroach traffic to either side.
Available LED headlights and fog lights illuminate the road ahead while simultaneously saving energy since LEDs draw much less energy than your average halogen or fluorescent bulb. During the daytime, they provide a modern, luxurious accent to the car's already-stunning front fascia. When nighttime comes around, the Mazda6 provides a bright, reassuring beam of light. Well-placed chrome accents help the Mazda6 to separate itself from the pack, and the available Active Grille Shutter opens and closes to improve aerodynamics and fuel economy.
The 2016 Mazda6 is available to lease in Milwaukee. It offers an abundance of features with a base MSRP of only $21,495. We at Russ Darrow Metro Mazda encourage you to take the Mazda6 for a test drive today!
Directions to Mazda Milwaukee
Contact us about the 2016 Mazda6