2016 Mazda6 for sale in Milwaukee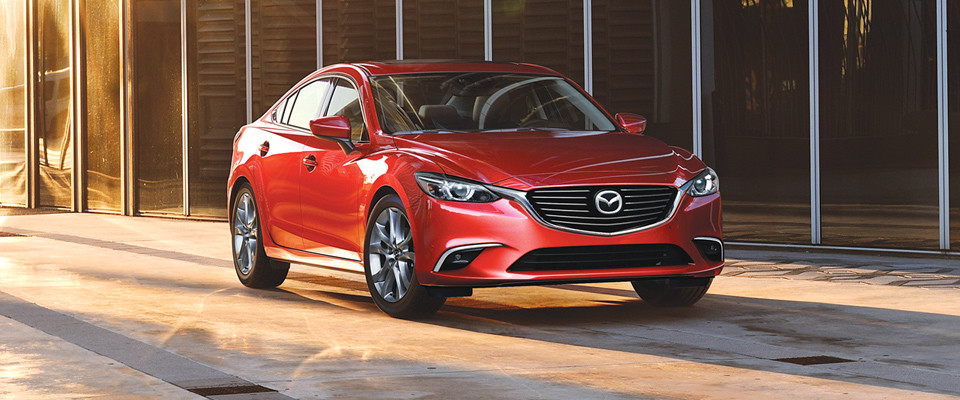 View 2016 Mazda6 Inventory
2016 Mazda6 for sale in Milwaukee
The 2016 Mazda6 for sale in Milwaukee shows why Mazda is one of the top brands in the market today. Mazda has shown a commitment to improving its product, and the Mazda6 is a direct reflection of that. Russ Darrow Metro Mazda has the new and improved Mazda6 for sale, and we always strive to provide the best possible buying experience.
The 2015 model earned its fair share of accolades, including a Top Safety Pick Plus by the IIHS, when equipped with available Smart City Brake Support. While an award of that nature might be incentive enough for some, Mazda has continued to grow and improve. For 2016 models, the available Distance Recognition Support System measures the distance between your car and any in front of you, displaying a warning if you approach too close. The Lane Departure warning system keeps an eye out for inadvertent lane changes, alerting you if you encroach traffic to either side.
The 2016 Mazda6 for sale in Milwaukee also demonstrates Mazda's commitment to efficiency. Its available LED headlights and fog lights consume less energy than your standard bulb, which puts less of a strain on your battery. They also provide a modernized look that just screams luxury. When nighttime comes around, the Mazda6 provides a bright, reassuring beam of light. Well-placed chrome accents help the Mazda6 to separate itself from the pack, and the available Active Grille Shutter opens and closes to improve aerodynamics and fuel economy.
Mazda's SKYACTIV® technology is really the "cherry on top," as they say. The car itself is full of potential, but this technology should really seal the deal. Motors equipped with the technology produce more midrange torque, designed to get you moving while burning the minimal amount of fuel. Mazda's redesigned transmissions provide ultra smooth and crisp shifts, helping you move into the next gear without delay. Thanks to the most modern technology, the Mazda6 is both lighter and stronger than its predecessors. A stiffer chassis gives you more stability, especially at higher speeds and in turns. Choosing between lightness and strength is a thing of the past.
The Mazda6's 2.5 liter motor manages a very respectable 40 miles-per-gallon on the highway, while at the same time producing enough power to put a wide grin on your face. Its 184 horsepower exceed a number of cars in its class, and its 185 ft-lbs of torque ensure that you'll have no problem getting up to speed. Coupled with a chassis designed to cut through the air and store energy when you lift off the throttle, the Mazda6 is designed to make the most of its power.
The 2016 Mazda6 for sale in Milwaukee offers an abundance of features with a base MSRP of only $21,495. Russ Darrow Metro Mazda has the Mazda6 available for test drive, and we encourage you to stop by today!
Directions to Mazda Milwaukee
Contact us about the 2016 Mazda6