2017 Mazda CX-5 Grand Select near Brown Deer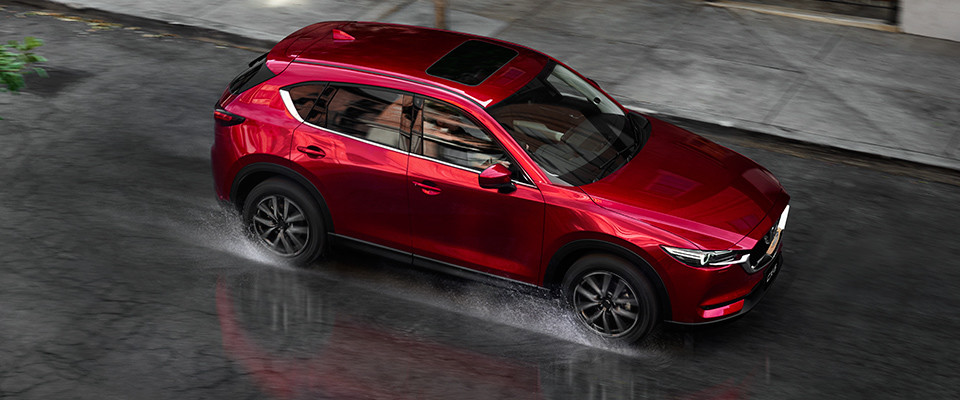 View 2017 Mazda CX-5 Grand Select Inventory
2017 Mazda CX-5 Grand Select near Brown Deer
From Brown Deer to well beyond, the 2017 CX-5 has really been turning heads this year. This is a compact SUV that's fun to drive and whose amenities define it as a standout option among the crowded class.
Even better, it comes in four unique trims outside the base version, each with its own advantages. The trims are as follows: The 2017 Mazda CX-5 Grand Select, Sport, Touring, and Grand Touring. But which one is the right version for you and your Brown Deer household? The following takes a more detailed look at one of our dealership's favorite trim and model: The 2017 Mazda CX-5 Grand Select.
Understanding the 2017 Mazda CX-5 Grand Select
Luxury Accents Minus Some Tech
The Grand Touring is the top-of-the-line trim of the CX-5 and as such comes with a complete suite of driver assist features like collision warning with emergency braking, lane departure warning with lane-keep assist, adaptive cruise control, and more.
In contrast, the CX-5 Grand Select lacks these smart driver technologies, but it more than makes up for that with other amenities. This well-appointed compact SUV comes with 19-inch wheels, power driver's seat, leather seating materials, a moon roof, automatic headlights, 10-speaker Bose audio complete with navigation, and much, much more. Worried about not having the first-gen technology you'd expect in a modern vehicle? The 2017 Mazda CX-5 Grand Select trim still has some tech to make its drivers more than happy. This trim does include a blind spot monitoring system with cross-traffic alert as well as Smart City Brake Support which provides for low-speed automatic braking.
Pricing Just Below the Grand Touring
The 2017 Mazda CX-5 Grand Select trim is priced at $500 below the driver-assist packed Grand Touring trim. While this might not seem significant, it may be the best choice for certain Brown Deer new car buyers. This is an ideal compact SUV pick for those who want all of the premium luxury accents but aren't too stoked about driver assistance options and prefer to instead have full control over their vehicle.
The Grand Select trim available near Brown Deer thus serves a very specific niche and need within the SUV industry. It offers those top end driver -- and, just as importantly, passenger -- comfort amenities without overloading the vehicle with too much tech.
Test Drive the 2017 Mazda CX-5 Grand Select Today Near Brown Deer
Of course, if you haven't tried out the driver assistance technologies that are available in today's vehicles, vehicles like the 2017 Mazda CX-5 Grand Touring, then isn't it time to? At Russ Darrow Mazda of Milwaukee, we are proud to have a wide selection of new and pre-owned CX-5s on our dealership lot, including the 2017 Mazda CX-5 Grand Select available both in front-wheel and all-wheel-drive. The CX-5 remains Mazda's best selling vehicle in the United States; isn't it time for you to see why so many compact SUV lovers choose the CX-5 over its competitors.
Our dealership is located 11330 W. Metro Auto Mall Drive in Milwaukee, WI; just a short highway hop away from Brown Deer and other nearby Wisconsin towns. Here, our friendly sales and finance team is here throughout the week to help serve you and find you and your Brown Deer family the perfect vehicle to meet your driving needs and your budget. Our team is proud to serve the greater metro region and we look forward to assisting you with all of your Mazda buying and service needs. Contact us today either online or call us at 888-675-2781 to speak with a representative and schedule a test drive.
Directions to Mazda Brown Deer
Contact us about the 2017 Mazda CX-5 Grand Select