2017 Mazda CX-5 Grand Select near Mequon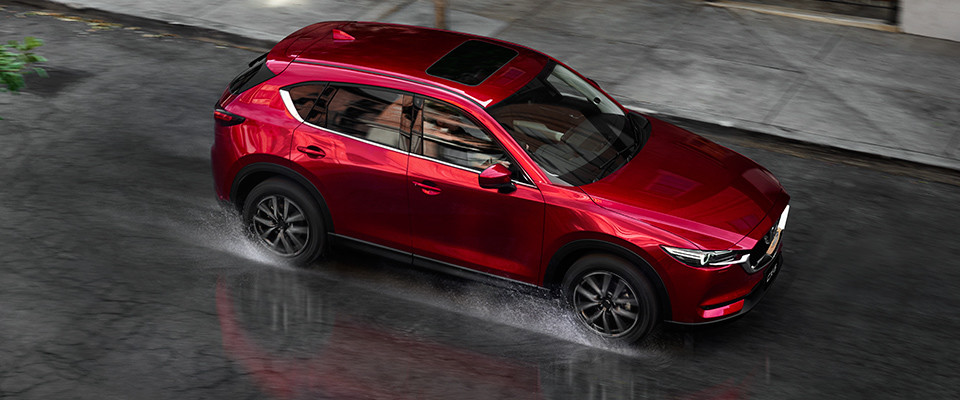 View 2017 Mazda CX-5 Grand Select Inventory
2017 Mazda CX-5 Grand Select near Mequon
Introduced for the 2013 model year, the Mazda CX-5 really transformed the world of small crossover SUVs. This wasn't because the CX-5 was the quickest or most technically advanced. But rather, the thing that turned peoples' heads and caught the eye of many a reviewer was the vehicle's superior handling and nuanced steering capabilities. The Mazda CX-5 offered an extremely exciting and desirable driving experience without sacrificing the cargo and related utility capabilities you'd expect out of an SUV. The 2017 Mazda CX-5 Grand Select builds upon those same desirable aspects and offers additional style and refinement for Mequon drivers to love.
The Many Exciting Features and Facets of the 2017 Mazda CX-5 Grand Select
Driving Experience. Mequon, located as it is on the banks of Lake Michigan and cut in two by the Milwaukee River, has its fair share of twisting roads. During summer rains, roads flood and in the winter snows they get icy and slick with sleet. All of this makes Mequon characterized by some less-than-ideal driving conditions. Yet a vehicle like the 2017 Mazda CX-5 Grand Select seems made for tackling those very road conditions. The CX-5 has steering that is a bit more weighted than other crossovers. This reflects the vehicle's sportier abilities and it makes everything from parking lot to rural road maneuvers a breeze to execute. Sharp, communicative, Mequon drivers who love the art of driving won't find a better SUV fit than the 2017 Mazda CX-5.
Cabin Full of Comfort. The 2017 Mazda CX-5 Grand Select is most assuredly a driver-friendly and passenger-friendly vehicle. The cabin is surprisingly quiet, making it an ideal vehicle for commuters between Mequon and Milwaukee. Of course, where noise levels are a concern for some, for others it is all about climate comfort. Here, the 2017 Mazda CX-5 once again delivers. The vehicle's dual-zone automatic climate control system excels at keeping temperatures constant throughout the cabin thanks to a pair of rear air vents. During the cool winter months in Mequon, the driver and the front passenger will love the heated seat wheels as well as a heated steering wheel.
Storage for Days. The 2017 Mazda CX-5 Grand Select was designed as a crossover SUV and it excels as such. Particularly in the arena of utility. This vehicle boasts all of the cargo capacity you'd expect out of a crossover. Rear sears are easily folded flat with a simple pull of the rear remote release latches. Even with several full suitcases packed into the back, drivers won't see much of their visibility impeded. The CX-5 also boasts a unique retracting door-mounted cargo cover that makes loading easier than ever. Of course, it isn't just the rear area that is equipped to meet storage needs. All four doors of the 2017 Mazda CX-5 are outfitted with spacious pockets complete with water bottle cutouts. The rear armrest includes its own shallow storage tray complete with USB ports, and between the front and driver's seats, there's another deep and spacious central storage area.
Test Drive the 2017 Mazda CX-5 Grand Select Today
You know what they say, seeing is believing. To really appreciate the beauty, style, and utility of the 2017 Mazda CX-5, you need to come down to our dealership for a look and test drive it yourself. Our quality Mazda dealership of Russ Darrow Mazda of Milwaukee is conveniently located at 11330 W. Metro Auto Mall Drive in Milwaukee, WI, a short highway hop away from Mequon. Contact our friendly sales team either online or via a call at 888-675-2781 to schedule a test drive today!
Directions to Mazda Mequon
Contact us about the 2017 Mazda CX-5 Grand Select