2017 Mazda MX-5 Miata near Germantown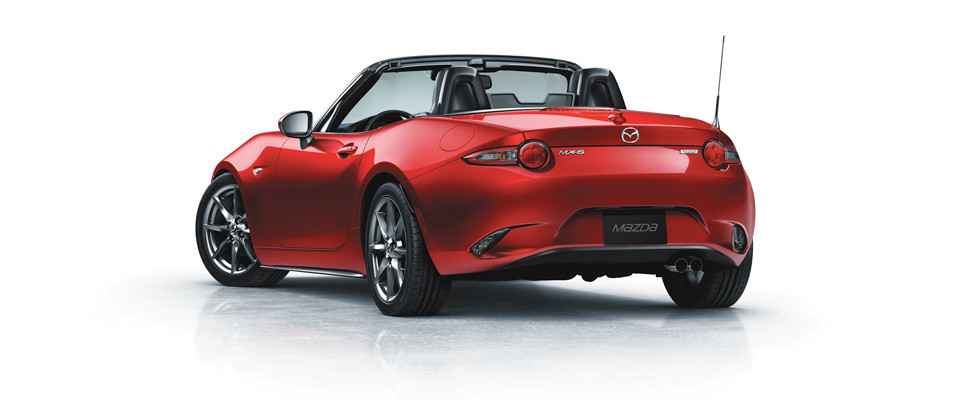 View 2017 Mazda MX-5 Miata Inventory
2017 Mazda MX-5 Miata near Germantown
The 2017 MX-5 Miata is a stunning and spry little rear-drive vehicle that happens to also be one of the most affordable sports cars on today's market. It's quick, responsive, and has great gas mileage. While this little roadster might not be a top pick for the big Germantown family, this is a prime pick for drivers who love to go fast and look fantastic while doing so.
And now with the 2017 generation, you get more for your dollar than ever before. Just consider the following reasons why you should consider a 2017 Mazda MX-5 Miata for your Germantown driving needs:
4 Reasons to Go Crazy for the 2017 MX-5 Miata Available Near Germantown
Distinctive exterior styling. The 2017 Mazda MX-5 Miata is like the Chevrolet Corvette and the Porsche 911 in that it has a stunning and distinctive appearance. The Miata features a wide grille opening that curves up to a sleek hood. Follow the lines to the rear where you'll find twin exhaust tips and modern LED lighting.
Friendly yet non-distracting dashboard technology. The 2017 Mazda MX-5 Miata boasts a 7.0-inch touch screen at the center of its dash that can be outfitted with an optional infotainment system. This infotainment system is easy to navigate and can be paired with your smartphone either with one of the two available USB ports or with Bluetooth technology. The vehicle additionally comes with voice control capabilities for even better use of the technologies while driving.
Stellar available sound system. The 2017 Mazda MX-5 Miata is designed with a cloth convertible roof while the 2017 Mazda Miata RF features a special power retracting targo top. With both versions, there's going to be plenty of warm-weather days in Glendale during which you'll want the top down and the music up. With the 2017 MX-5 Miata, you don't have to sacrifice sound quality for summer enjoyment. That's because this roadster comes with an available nine-speaker Bose stereo system that includes headrest-mounted speakers and a thumbing subwoofer.
Excellent fuel economy. Perhaps the most popular market for the 2017 Mazda MX-5 Miata is commuters who are constantly traveling between Milwaukee and Germantown, Glendale, and Whitefish Bay. Business executives, university employees, and healthcare professionals all love a beautiful vehicle that is fun to drive and gets a great fuel economy. The MX-5 Miata does provide just that. This roadster gets an impressive EPA-estimated 26 miles per gallon in the city and 35 miles per gallon on the highway, making it one of the most fuel efficient vehicles in its class.
Of course, affordability of this vehicle isn't just found at the gas pump. The 2017 Mazda MX-5 Miata is available on our dealership lot for as low as $28,000! For those Germantown drivers who want to take the roadster out on the track on the weekends, ask about our available upgrade packages that will transform the MX-5 Miata into a competitive track car as well as an exciting daily driver.
Visit Russ Darrow Mazda of Milwaukee Today to Test Drive the 2017 Mazda MX-5 Miata
Whether you're starting a new job or simply want to treat yourself, the 2017 Mazda MX-5 Mita is a great vehicle for those who want something that looks great, sounds great, and drives great. To learn more about this fantastic roadster, contact our friendly sales and finance team either online or by calling 888-675-2781. You can also stop on by our dealership of Russ Darrow Mazda of Milwaukee at 11130 W. Metro Auto Mall Drive. We are situated just a short fifteen minutes away from Germantown and other Milwaukee-area suburbs.
Directions to Mazda Germantown
Contact us about the 2017 Mazda MX-5 Miata