2017 Mazda MX-5 Miata near River Hills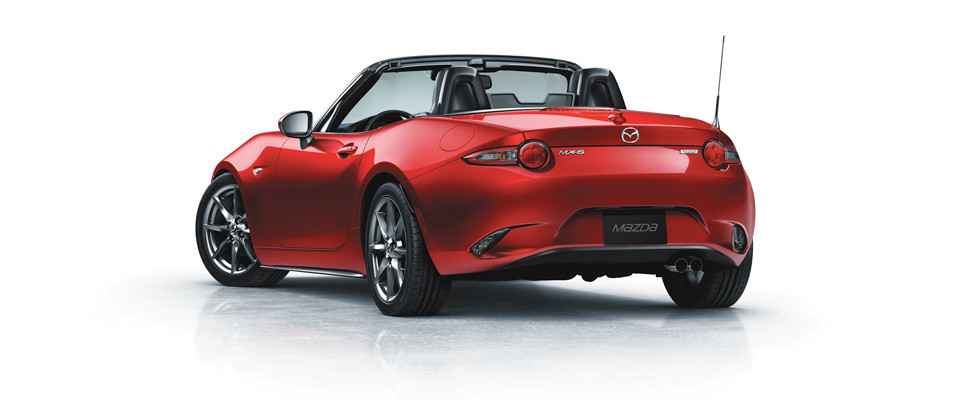 View 2017 Mazda MX-5 Miata Inventory
2017 Mazda MX-5 Miata near River Hills
Some cars are built for commuting, some are built for business. A new 2017 Mazda Mx-5 Miata for sale near River Hills is engineered for fun. It's a little car with big personality--and it can be yours when you choose Russ Darrow Mazda of Milwaukee. The Mazda Miata has been delighting drivers for 25 years, and the latest edition of this pint-sized coup is sure to carry on that tradition with its luxurious interior, sporty exterior and unmatched agility.
New 2017 Mazda Mx-5 Miata Vehicle Information
The interior of the two-seat 2017 Mazda Mx-5 Miata for sale near River Hills gives you everything you would expect from a high-performance sports car. From seats that were clearly designed for comfort to well-placed foot pedals to the intuitively positioned shifter and gauges, everything you need to conquer the road is provided. The standard club trim comes equipped with a nine-speaker BOSE Audio System, the MAZDA Connect Infortainment System, power windows, a leather-wrapped steering wheel and a Bluetooth-enabled, full-color, seven-inch touch screen. The Grand Touring trim adds HD radio, SMS text message audio delivery and relay, the Mazda Navigation System, leather-trimmed heated sports seats and several internet radio options.
While the car is small, it still manages to create a comfortable experience for both the driver and passenger--especially if you choose to go with the retractable roof. With a single push of a button, the Mx-5 allows you to wind your way through town or across the country with the air whipping over your head. And if you really want to feel the air whipping, you'll be able to quickly and safely experience it thanks to the car's ability to accelerate.
Specifications of the 2017 Mazda Mx-5 Miata near River Hills
Blast off in 5 ... 4 ... 3 ... 2 ... .
Every new 2017 Mazda Mx-5 Miata for sale near River Hills has a 2.0-liter, four-cylinder engine under its hood. It's an engine powerful enough to deliver quick acceleration, thanks to the 155 horsepower and 148 pound-feet of torque it pumps out, yet nimble enough to provide complete control coming out of corners or navigating traffic congestion. It can also stop on a dime. The vehicle comes with a six-speed automatic transmission, top-of-the-line Brembo front brakes and 16-inch BBS wheels. The Grand Touring trim adds an inch to the wheels. Both are engineered to respond instantly, shift swiftly and create a fun driving experience.
It's also engineered to look great--stunning, really. It's a sleek and daring coupe designed for maximum efficiency. The "snakebite" hood is carefully crafted to look modern. The slanted headlights and contoured lines draw your eyes across the car's body. The rear lip spoiler simply looks cool. It's a car that looks quick because it is.
But don't let appearances fool you; it's also safe. Both trims are equipped with all-LED headlights and running lights, power side mirrors, E911 automatic emergency notification, dual front air bags as well as side-impact air bags, blind spot monitoring and rear cross traffic alert. Of course you don't intend to crash, and Mazda has equipped the car with some features to help ensure you don't: brake assist, electronic stability control, a rollover protection system, traction control and night vision.
Make no mistake about it: a new 2017 Mazda Mx-5 Miata for sale near River Hills is engineered for fun--and fuel efficiency. According to EPA estimates, you can expect a combined 30 miles-per-gallon. Hopefully you're going to Russ Darrow Mazda of Milwaukee at 11330 W. Metro Auto Mall Drive for a test drive. Come and see our friendly and knowledgeable sales staff today--and experience the fun for yourself.
Directions to Mazda River Hills
Contact us about the 2017 Mazda MX-5 Miata