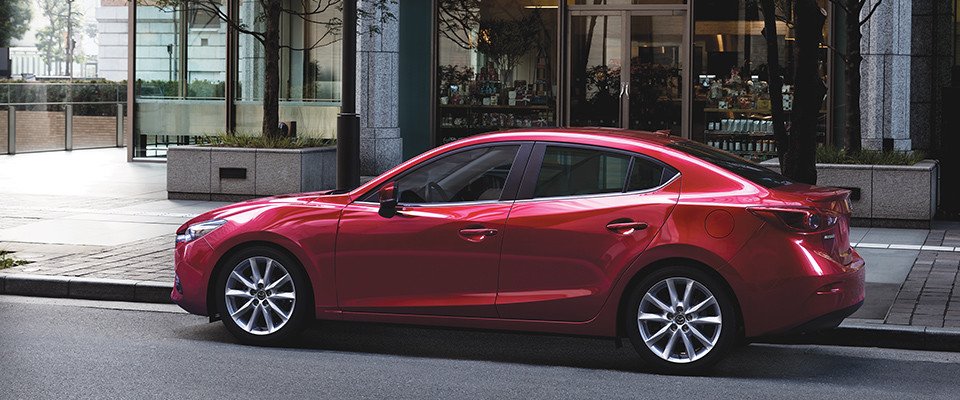 View 2017 Mazda3 Sport Sedan Inventory
2017 Mazda3 Sport Sedan near Wauwatosa
The 2017 Mazda3 is here, and it has been given a few updates to make it even better. One of the best compact sedans around, the Mazda3 does not need much improvement. The well-rounded, compact sedan has been given small changes in its exterior styling as well as a few new interior bits. One of the best things about the 2017 Mazda3 Sport Sedan near Wauwatosa is the addition of updated active-safety features and the G-Vectoring Control system that gives you better steering response.
New Features of the Mazda3 Sport Sedan near Wauwatosa
While the Mazda3 does not really need much improvement, the changes made to it for 2017 are welcome. You will appreciate the revised exterior design that gives the sedan a sharper look. The reshaped headlights and grille provide a more aggressive look as well. On higher trim models, you will find new available LED headlights. In the rear, a new bumper makes the Mazda3 look slightly crisper and cleaner than before. New colors are available, such as Machine Gray Metallic and Eternal Blue Mica, which replaces the previous Blue Reflex Mica.
The Mazda3 has been given more noteworthy interior revisions, like the new steering wheel and an electric parking brake that gives you more storage space on the center console. The sedan's door panels also get a new upscale trim. A new option offered is a heated steering wheel. The upholstery is also given upgrades, like the higher-quality fabric for the standard interior. For the optional black leather interior, you get new chic-looking espresso-colored accents.
Handling and Precision of the 2017 Mazda3 Sport Sedan
For 2017, the carmaker has made further improvements to the 2017 Mazda3 Sport Sedan near Wauwatosa to improve what was already really good. G-Vectoring Control (GVC) is part of the SKYACTIV® TECHNOLOGY Vehicle Dynamics developed to raise the Mazda3's appeal. GVC, in a nutshell, is the manipulation of a number of elements, including suspension calibration and management, engine torque and steering response and precision.
Since it already had impressive looks, there was not much need for aesthetic changes on the 2017 Mazda3. What the carmaker did instead was focusing its attention on refining the driving experience even further. To learn more about the 2017 Mazda3 Sport Sedan, get in touch with our proficient and friendly sales team at 888-675-2781. We have assisted many customers from Brookfield, Racine, Greenfield, Menomonee Falls, Mequon and the neighboring areas to make an informed purchase decision. We would like to offer the same assistance to you, as well.
Directions to Mazda Wauwatosa
Contact us about the 2017 Mazda3 Sport Sedan